Voyage to Manila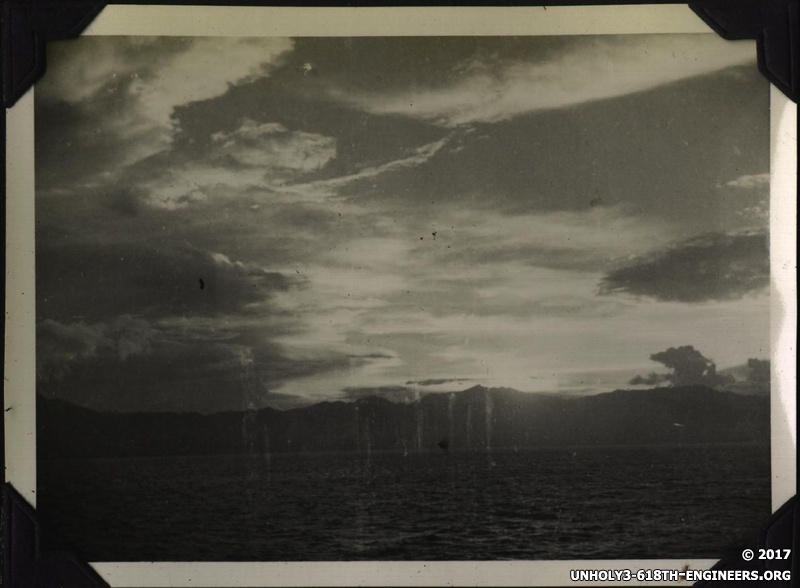 Scenic view, shot during the transit from New Guinea to the Philippines.
Original album page is annotated "Voyage to Manila, aboard Liberty ship." May 1945.
On 10 May 1945, the 618th left Milne Bay for the Philippines. They arrived in Manila on 24 May. Here are a few images of the trip.



The unit history says the ship left Milne Bay, stopped at Hollandia (now Jayapura City) for a day, then proceeded to Manila. The specific route is unknown; this map depicts two hypothetical and approximate possibilities.




Another scenic photo during the voyage.




Shipboard scene during the voyage, showing 1st Sgt. Rigden with a pet monkey on a leash. Since there were no monkeys in New Guinea then, the source of this critter is unknown. The unit history does not mention monkeys.






Somebody--doesn't look like Rigden--sitting on deck, reading. He's got a monkey on his head.




Rifle inspection during the voyage.




Signalman on ship. He looks like he could sail with Sir Francis Drake.






The signalman at work.
All contents copyright © L.S. Johnson and C.A. Johnson, 2017.
All rights reserved.